Mikael is one of the supporting characters of Candy Series. He is a music prodigy and first appeared as one of the main characters in Reaching for the Stars: Friendship. He is a former student of Sacred Hearts Primary School and is now currently studying music in Prague.
When Mikael was little, he was very talented in singing and everyone held high regards towards him. But when he participated in a singing competition, he panicked and wanted to complete singing the song quickly, he forgot to have eye contact with the audience, thus he failed in the singing competition.
Appearance
Edit
Mikael is a lean 14-year-old boy above average height. He has cream color hair which is kept in strands jutting downwards in every direction; and a smaller, upper cowlick (or tuft) of hair jutting upwards. He has golden eyes and a mole right at the bottom of his right eye.
Similar to the rest of the characters, Mikael does not consistently wear the same type of clothes.
He is considered to be very attractive, as shown when several girls stared dreamily at him and whispered about him when he was practising piano.[9]
Personality
Edit
Mikael is caring, patient and gentle, but sometimes, he has mood-swings (mostly happening when Joni is around). He tends to show his charm and gets angry easily when someone insulted him or teased him. He cares a lot about his future ambition, and takes light steps to reach his dream as a musician. Mikael deeply treasures music instruments, as he mentioned in Dreams Take Flight: Ambition.
Abilities
Edit
Prodigious Talent in Music
Edit
Relationships
Edit
Mikael's parents made a photo cameo in Be True, Be You: Interests. His father had cream colored hair in a bowl cut and gold eyes and he was seen wearing a a black suit over a light purple shirt with a purple tie. His mother had long brown hair tied into a bun with the rest of her hair gathered behind her back and two strands framing her face. She was seen wearing a white shirt with a brown belt.
in Be True, Be You: Interests he had made a phone call with his parents in his flashback.
His relationship between his family is currently unknown.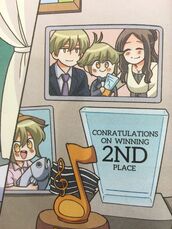 Miss Lee
Edit
Miss Lee is Mikael's teacher during his days as a student in Sacred Hearts Primary School.
Love Interests
Edit
Visit Jonkael
Visit Miakael
Enemies/Neutral
Edit
Upon meeting at Sacred Hearts Primary School's concert, Steve and Mikael are ultimately introduced to be rivals. It was shown that the two are arranged to completely contrast with Steve being more physically adept and prefers the outdoors and Mikael being an indoor type.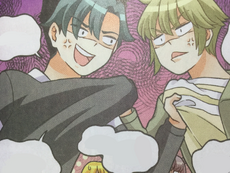 Due to the fact that both parties have interest -at least a little- for Joni. They began competing for Joni's attention, hence resulted in rivalry between the two. Although both have been condescending and arrogant towards each other. While Mikael was the one whom started the rivalry and took it more seriously, Steve on a few occasions took their rivalry lightly.
Other Media
Edit
Candy Careers Card Game 1.0 and 2.0
Edit
Mikael, along with many other characters, are depicted and designed in several cards as performing different types of occupations. He is depicted as:
Hairstylist
Lyricist
Racecar Driver
Navy Officer
Keyboardist
Candy Cuties
Edit
Mikael along with all the other characters of Candy Series are featured in the Candy Cuties series. Mikael appears in:
Candy Cuties Vol.1
Candy Cuties Vol.2
Candy Cuties Vol.5
Candy Cuties Vol.7
Candy Cuties Vol.8
Candy Cuties Vol.11
Candy Cuties Vol.12
Synopsis
Edit
Mikael sent a parcel to Candy JEM that contained three purses with adorable cat pictures on them.
When Emilia and Joni were discussing about who they should invite for Mia's birthday party, Mia had the intention to invite Mikael too but gave up because he was in studying in Prague.
In the official Candy Series characters stats, several information of Mikael is revealed:

Mikael's blood type is A.
Mikael's favorite things are music.
Mikael's hobbies are playing the piano and composing music.
Mikael was ranked sixth in the 2014 Candy Series characters popularity poll.
According to the official 2018 Candy Series Fanbook:

Mikael's birthday is on October 2, hence making him a Libra.
Positive traits of Mikael include his prodigious talent in music, proficiency in analysing, caring attitude towards his juniors and a good
Negative traits of Mikael include his tendency to become emotional and his tendency to get mad easily when the situation involves Joni.
Mikael's favorite food are pizza, Western cuisine and for some special reason, toast pudding while his least favorite food is processed food.
Mikael's most proficient subjects are music and language studies while his least proficient subjects are PE and Mathematics.
Mikael's personal stats are:
| | | |
| --- | --- | --- |
| Intelligence | | 4/5 |
| Physical Strength | | 3/5 |
| Stress Resistance | | 1/5 |
| Health | | 3/5 |
| Sports Proficiency | | 3/5 |
| Beauty | | 3/5 |
References
Edit