Help Needed.
This article is either short, incomplete, in need of referencing and/or maintenance. They therefore require editing to the proper standard of what a detailed and informative article should be. Please help the Candy Meow Series Wikia by making high quality edits to this article.
| | |
| --- | --- |
| | This article is a stub. You can help Candy Meow Series Wikia by expanding it. |
Robin is a Year 6 student and the best friends of the bullies with a bad reputation. She made her debut in Boys & Girls Rule!: Growing Up.
History
When Robin was much younger, she and Joshua were known to be very close friends. Their relationship was so intimate that a few of the friends Joshua and Robin have invited to Robin's birthday party teases Joshua and Robin for being an item. This fact, is greatly denied by Joshua.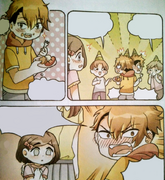 Physical Appearance

Robin is a pre-teen around average height. During her first appearance in Boys & Girls Rule!: Growing Up, she has a rather boyish appearance; she has short, black hair that covered up her right eye and were often seen wearing boy-like clothing. She also have pale skin, blue eyes and rather thick eyebrows.
However, later in the book, she engaged in a more girly and feminine look; the upper part of her hair is parted to the left with a purple clip, revealing her right eye and she started to wear more girlish clothing.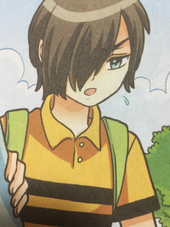 Personality
Relationship
Love Interests
See Joshro.
Friends
Triplet Bullies
Synopsis
Boys & Girls Rule!: Growing Up
Abilities
Sportsmanship
Mental Intellect
Trivia
In the official Candy Series characters stats, several information of Robin were revealed.

Robin's blood type is A.
Robin's astrological sign is Pisces, therefore her birthday falls around February 19 to March 20.
The things that Robin likes are accessories and hairclips.
Her hobbies are reading and basketball.
References
Ad blocker interference detected!
Wikia is a free-to-use site that makes money from advertising. We have a modified experience for viewers using ad blockers

Wikia is not accessible if you've made further modifications. Remove the custom ad blocker rule(s) and the page will load as expected.