"I even hid who I really was so I could stay your friend. No matter how much it hurt, I always forced myself to tolerate your dumb behaviour. But you never respected me! You never thought about my feelings! You said I'm weak and useless just because I'm a girl. But let me make this clear to you! I'm proud to be a girl! I may be not as strong as a boy, but I have the courage to be who I am!"

—
Robin
to
Joshua
in
Boys & Girls Rule!: Growing Up
Robin
 Alias(es)
Rob (by Joshua)
 Nationality
Malaysian
• Characteristics•
 Blood Type
A[1]
 Gender
Female
 Age
12
 D.O.B.
Around February 19 to March 20[2]
 Hair Color
Black
 Eye Color
Blue
• Professional Status•
 Affiliation
Sacred Hearts Primary School
 Occupation
Student
• Personal Status•
 Status
Alive
 

Civil Status

Single
 Relative(s)
Unnamed mother (mentioned)
 Love Interest(s)
Joshua (childhood friend and possible love interest)
 Allies
Joshua (childhood friend and possible love interest), Triplet Bullies, Candy JEM, Alex, Anthony
• Others•
 Like(s)
Accessories, hairclips, reading, basketball[3]
 Alignment
Good
 Goal(s)
To conceal her identity as a girl (formerly)
• Debuts•
 Comics
Boys & Girls Rule!: Growing Up
Robin is a Year 6 student and the best friend of Joshua. She made her debut in Boys & Girls Rule!: Growing Up.
Biography
Edit
Early Life
Edit
When Robin was much younger, she and Joshua were known to be very close friends. Their relationship was so intimate that a few of the friends Joshua and Robin have invited to Robin's birthday party teased Joshua and Robin for being an item. This fact, was greatly denied by Joshua.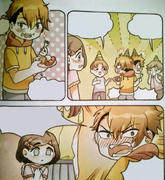 Boys & Girls Rule!: Growing Up
Edit
More Than Friends: Feelings
Edit
Corey stated that he knew a few people who always look out for one another and help them whenever they are in need, Robin was mentioned alongside Joshua to be one of the few that had such a relationship.
Appearance
Edit

Robin is a pre-teen around average height with short black hair, blue eyes and rather thick eyebrows. During her first appearance in Boys & Girls Rule!: Growing Up, she had a rather boyish appearance; her covered her right eye and she was often seen wearing boyish clothing.
However, later in the book, she engaged in a more girly and feminine look; the upper part of her hair was parted to the left with a purple clip, revealing her right eye and she started to wear more girlish clothing.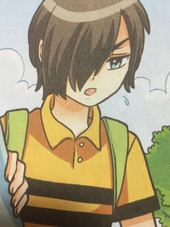 Personality
Edit
Relationships
Edit
Triplet Bullies
Edit
Candy JEM
Edit
Love Interests
Edit
See Joshro.
Abilities
Edit
Sportsmanship
Edit
Mental Intellect
Edit
In the official Candy Series characters stats, several information of Robin were revealed.

Robin's blood type is A.
Robin's astrological sign is Pisces, therefore her birthday falls around February 19 to March 20.
The things that Robin likes are accessories and hairclips.
Her hobbies are reading and basketball.
References
Edit
↑

Robin's blood type in Character Information, see Trivia

↑

Robin's astrological sign in Character Information, see Trivia

↑

Robin's likes in Character Information, see Trivia