Sofia is the former main antagonist and now, one of the supporting characters of Candy Series. She made her debut in Reaching for the Stars: Friendship as the opposing character to Candy JEM. Sofia is described as one of the 'Four princesses' of Sacred Hearts Primary School alongside Emilia, Qistina and Zara.
History
When Sofia was a toddler, she wad very attached to her cousin Lily, and inherited several negative traits from her, such as looking down at the less wealthy and spending outrageously on clothes.
Appearance
Sofia bears a striking resemblance to her mother. She has cerise eyes and has shoulder-length magenta hair with fringe that covers her forehead and part of her eyebrows. She is tall (bearing a height of 146cm) and has a slender figure. Sofia was also known to have hairy legs, as said by Joni when she was compared with Mia in Little Ladies: Courtesy.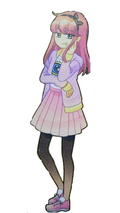 Sofia is considered to be rather attractive, as both Richard and his mother commented that she looked like a doll.
Along with most other characters, she consistently change her clothing occasionally. According to most of her schoolmates, especially Richard, the clothes that she wears are either outrageous or provocative, but her sense of clothes soon improved after some time and started to wear more modest clothing.
Personality
In her youth, Sofia was an innocent and open-minded person who does not look down on poor people[9] . This, however, changed after Lily told her to distance herself between her and the less wealthy. Ever since then, Sofia looked down on the poor and displayed disdainful attitude towards them.
Sofia is a vain, spoilt, bratty and arrogant person. She is considerably short-tempered and even the slightest provocation could trigger her anger. Even to a point of physically abusing people, noticeable Zara and Qistina; Sofia threw her self-made pencil holder of hers to her two friends when they insisted on befriending Candy JEM, and pulling their hair when they do not agree with her opinion.
She also bears a rather flamboyant and egotistical nature (a perfect contrast to Mia's composed, shy and well-collected demeanor). Always wanting all the attention to herself from people.
Despite the way she presents herself. Sofia reveals to have a softer side. As the series progresses, Sofia became more considerate to her friends and understands their feelings. Later on, Sofia displayed a more light-hearted and serene side of her, this trait was shown when she sheepishly thanked Richard from helping her with her current status in school[10].
Abilities
Intelligence
Sofia on several occasions displayed academic intelligence in her studies in school. As she got between 11th to 20th place in her class.[11]
Singing
Sofia has a talent for singing as shown in Keeping You Waiting: Time Management.
Others
Other Media
Candy Careers Card Game 1.0 and 2.0
Sofia, along with many other characters, are depicted and designed in several cards as performing different types of occupations. She is depicted as:
Latin Dancer
Painter
Guide
Singer
Actor
Candy Cuties
Sofia along with all the other chaacters of Candy Series are featured in the Spin-off Candy Cuties Series. Sofia appears in all the current volumes except volume 7.
Trivia
In Dreams Take Flight: Ambition, it was revealed that Sofia's ambition is to become a singer.
In the official Candy Series characters' stats, it was revealed that Sofia's astrological sign is Aries, therefore her birthday falls between March 20 to April 19.
Sofia is ranked tenth in the 2014 Candy Series characters popularity poll.
References
Ad blocker interference detected!
Wikia is a free-to-use site that makes money from advertising. We have a modified experience for viewers using ad blockers

Wikia is not accessible if you've made further modifications. Remove the custom ad blocker rule(s) and the page will load as expected.