Help Needed.
This article is either short, incomplete, in need of referencing and/or maintenance. They therefore require editing to the proper standard of what a detailed and informative article should be. Please help the Candy Meow Series Wikia by making high quality edits to this article.

Steven, nicknamed Steve, is one of the supporting characters of Candy Series. He made his debut in Hamlet's Keeper: Responsibility. Steve was known to be studying zoology overseas (like Mikael) and frequently come back to help Irwin in running an animal shelter called 'Helping Paws Animal Shelter'.
Steve's history is currently unknown.
Appearance
Edit
Steve is a relatively tall teenager around the same height as Mikael and has pale skin and brown eyes. Similar to his brother, he has messy black hair with the front being basil green, the only difference is that his hair is being groomed to the right side of his head.
Just like almost all the other characters, Steve consistently changes his clothing.
Personality
Edit
Steve is a mellow, down-to-earth, fun-loving preteen who has a love for animals.
Relationships
Edit
Steve and Irwin's parents were mentioned in Hamlet's Keeper: Responsibility. Their father is a veterinarian and their mother is an animal researcher and they rarely cone back home because they are frequently overseas.[8]
Irwin is Steve's older brother who owns an animal shelter, Helping Paws Animal Shelter.
Steve and Irwin's uncle appeared in Irwin's mind when Irwin was working as an intern veterinarian. Their uncle owns an animal clinic and was described to be eccentric and short-tempered.
Love Interests
Edit
See Stoni
Enemies/Neutral
Edit
Upon meeting at Sacred Hearts Primary School's concert, Steve and Mikael are ultimately introduced to be rivals. It was shown that the two are arranged to completely contrast with Steve being more physically adept and prefers the outdoors and Mikael being an indoor type.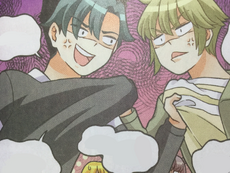 Due to the fact that both parties have interest -at least a little- for Joni. They began competing for Joni's attention, hence resulted in rivalry between the two. Although both have been condescending and arrogant towards each other. While Mikael was the one whom started the rivalry and took it more seriously, Steve on a few occasions took their rivalry lightly.
Steve was mentioned by Mikael numerous times, mostly by the fact that he had mistaken Irwin as Steve in a group photo that Joni had sent him, and travelled from Prague to Langkawi in attempt to prevent Steve from becoming close friends with Joni.
Steve appeared at Sacred Hearts School's concert with his brother to watch Candy JEM's performance. He greeted Julian and Mikael casually before an eager Joni waved and attracted his attention after finishing the singing performance. Steve then happily greeted her back.
Joni said to Mikael that he and Steve were her confidants.
Other Media
Edit
Candy Careers Card Game 2.0
Edit
Steve, along with many other characters, are depicted and designed in several cards as performing different types of occupations. He is designed as:
Soldier
Aircraft Maintenance Engineer
Jockey
Muay Thai Fighter
Candy Cuties
Edit
Steve, along with all the other characters are featured in the spin-off Candy Cuties. Steve appears in:
When Steve's name is combined with his brother Irwin's, it is a direct reference to the well-known zoologist, Steve Irwin
In the official Candy Series character stats, several information of Steve are revealed:

Steve's blood type is B.
Steve's hobby is taking care of animals.
Steve is roughly the same age as Candy JEM. He is 11-years-old.
According to the official 2018 Candy Series Fanbook:

Steve's birthday is on December 7, hence making him a Sagittarius.
Positive traits of Steve include his cheerfulness, helpfulness and compassion.
Negative traits of Steve include his tendency to get emotional and his tendency to get mad easily when the situation involves Joni.
Steve's favorite food are pizza, hamburgers, fried chicken and his brother's homemade cooking while his least favorite food is beans.
Steve's most proficient subjects are PE, Mathematics, Science, geography and ecology while his least proficient subject is literature.
Steve's personal stats are:
| | | |
| --- | --- | --- |
| Intelligence | | 4/5 |
| Physical Strength | | 4/5 |
| Stress Resistance | | 4/5 |
| Health | | 5/5 |
| Sports Proficiency | | 4/5 |
| Attractiveness | | 3/5 |
References
Edit